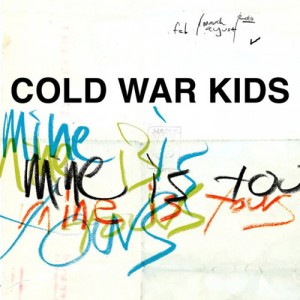 Ich gebe zu die Cold War Kids waren für mich bisher kein großes Thema, der kleine Hype um "Robbers & Cowards" war mir damals nach Anhören des Debüts ein Rätsel und mit dem zweiten Album wurde nicht viel zur Lösung desselbigen beigetragen. Nun also Album Nummer 3 und im Vorfeld war schon so ein Murren und Grummeln zu hören, die Cold War Kids würden "mainstreamiger", will heißen eingängiger. Das ist natürlich dann mein Auftritt. Und es stimmt abgesehen von ein paar kleinen Schlenkern und Gimmicks, die immer mal wieder in den Liedern untergebracht sind, könnte man fast sagen dieses Album sei fürs Stadion gemacht. Keine nervigen Breaks und großartige Tempiwechsel, die Fans der ersten Stunde sich wahrscheinlich wünschen, damit die Band speziell bleibt und die offensichtliche Fähigkeit durchaus Songs für eine breitere Masse zu schreiben übertüncht wird. Statt dessen HYMNEN und nicht zu knapp. Bevor jetzt alle komplett abgeschreckt werden, das ist immer noch kein Stadion a la U2 oder Bon Jovi, aber definitiv so Stadion, wie es das letzte The National-Album eigentlich auch schon war.
Nebenbei klare Hörempfehlung für Fans von "High Violet", man höre nur

"Skip The Charade"
oder "Bulldozer"
und achte dabei vor allem auf das Schlagzeug.
Die Indie Kids werden weinen, but who cares.
Tracklist:
1. "Mine Is Yours"
2. "Louder Than Ever"
3. "Royal Blue"
4. "Finally Begin"
5. "Out Of The Wilderness"
6. "Skip The Charades"

7. "Sensitive Kid"
8. "Bulldozer"
9. "Broken Open"
10. "Cold Toes On The Cold Floor"
11. "Flying Upside Down"